The Doctor
Dr. Pamela McInroy
Dr. McInroy is happy to treat your "fur kids" at Amigo Animal Hospital. Although she is from Colorado she loves the sun and surf of Southern California. She can usually be found walking her dogs along the beach or at a dog park in the area with her three dogs. Her cat (in the picture) is strickly a homebody.
---
Dr. Kakura Watanabe
Dr. Watanabe is our Monday exam room doctor while Dr. McInroy is doing surgeries. She has a warm smile and is always ready to listen and help. She has a sharp mind and incredible diagnostic and therapeutic skills. We are lucky to have her on our staff!
---
The Staff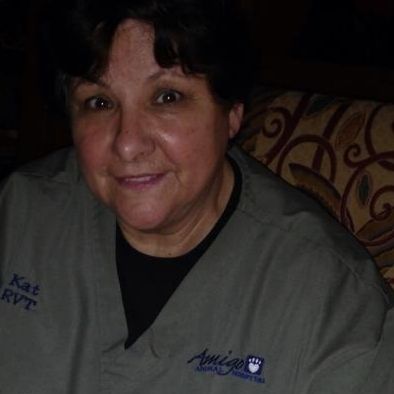 Kat, RVT, Lead Tecnician
Kat is our registered veterinary technician. In order to have those initials behind your name she has gone through rigorous classes and passed both the state and national testing. She has outstanding technical skills and knowlege and is a seasoned professional.
---
Cristal, Lead Receptionist
Cristal has never been far from one of her many furry friends. She has both cats and dogs and loves each and every one. You will find her bubbly personality can make you smile in both english and spanish. She is a wonderful and dedicated addition to our Amigo staff.
---
Maurice Garcia, Veterinary Assistant
Maurice has always loved animals and now is happy to work with them everyday. He is in charge of making sure everyone is warm, fed, and dry and snug in their beds at night. He forms a special bond with most of our patients and they love it when Maurice is there to take care of them.
---

Trampoline Dodgeball Tournament October 2015